Newbie
Join Date: Jun 2010
Posts: 2
Mentioned: 0 Post(s)
Tagged: 0 Thread(s)
Quoted: 0 Post(s)
Head Unit upgrade has me scratching my head
---
Installed a new Kenwood head unit into my otherwise stock 07 A4 (non-bose, symphony).

Anyways, used the PAC harness and everything seems to be working just fine; however, the rear door speakers and amp just don't have the same volume as the stock radio. The read doors speakers and sub are getting audio signal but they aren't as loud as the front speakers. I would expect them to be louder considering it has the factory amp. I tripe-checked the new wiring harness and I am certain there is 12+ vdc going back to the amp for turn-on (white wire in dock n lock connector).

What has me scratching my head is that the dock-n-lock connector is populated with RCA connection points but it makes no difference if I have the Front/Rear RCAs plugged into my Kenwood head unit. I also noticed that the dock-n-lock connector is NOT populated with speaker wires for the rear left/right so I have no idea how the rears are getting an audio signal and why the volume is low.

Any help would be appreciated!
Newbie
Join Date: Jun 2009
Posts: 2
Mentioned: 0 Post(s)
Tagged: 0 Thread(s)
Quoted: 0 Post(s)
On a stock head unit, non Bose, in the UK the adapter has RCA outs for the rear speakers as there is no hi level out from the factory head unit.
You need to hook up the RCAs to the output of your new head unit, and you have to make sure the power wire is hooked to the blue remote out from your new head unit too so it power up.
This image shows the amp switch on pin that the remote out from your new head needs to hook up to...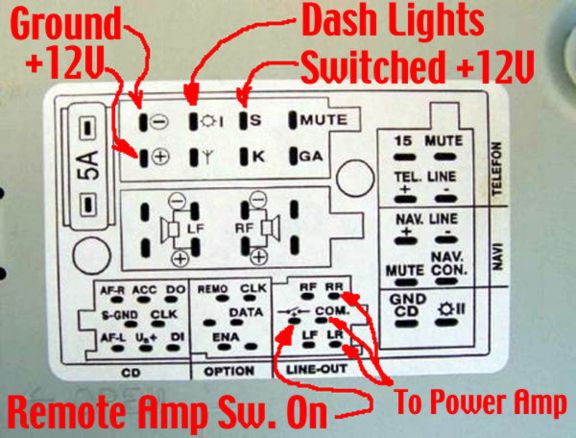 Depending on the head unit you may need to up the rear outs a bit, you may have a head unit with 2v outs, 3v, 4v or 5v, obviously this will effect the gain.
Currently Active Users Viewing This Thread: 1

(0 members and 1 guests)
Posting Rules

You may not post new threads

You may not post replies

You may not post attachments

You may not edit your posts

---

HTML code is Off

---